Back to Adoption Page


The Shar-Pei in our Courtesy Listings are not a part of or associated with Shar-Pei Rescue of Virginia. They are shown on our website as a courtesy to shelters, other rescue groups and individuals who have dogs that are looking for a new home. The information listed for each animal was provided by individual caregivers, shelters or other rescues. Since we have not seen or evaluated these dogs, we cannot make any representation or take responsibility for any dog's temperament or health. Shar-Pei Rescue of Virginia encourages potential adopters to gain as much information as possible before adopting these dogs, including but not limited to temperament testing, consultation with a trainer, and consultation with a veterinarian.

If you are interested in adopting one of these animals, please contact the caregivers of the animal by email or phone provided below.
Woody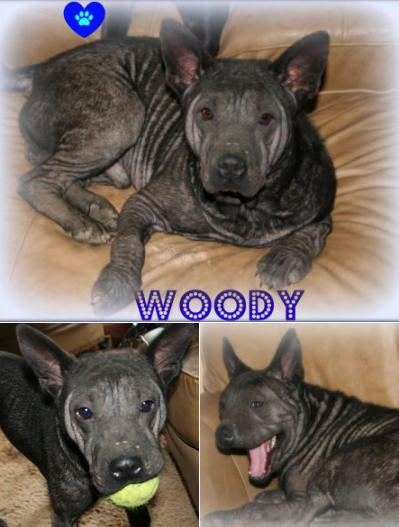 Woody was rescued from a high kill shelter in SC when he was 12 weeks old. He was almost completely bald because he had such bad demodex and could not stop scratching. He had open cuts all over his body and was not given enough food and nutrients growing up, so his front legs were bent and weak to the point that he could only crawl short distances. He was scared of humans and had no idea what is was like to be petted.

Woody is on Ivermectin for his demodex, and it has cleared up nicely. His coat has filled in, and the scratching has subsided. His legs have straightened out, and now he he can run and jump and loves to be petted. Woody is very social now and loves to give kisses, cuddle on the bed, sleep by the fire, and play outside. His favorite toy is a squeeky tennis ball and his favorite game is chasing the laser light.

Woody will need to be treated for the demodex for several more months. (it's not contagious so don't worry). His legs are still a bit bowed, but he is able to get around like a normal dog now.

Woody will make a GREAT dog for anyone and is a TRUE rescue dog. Woody was in misery when he came to us, but now he is happy and full of life. You will never find a more grateful dog than him...he knows. He is UTD on shots, wormed, current on all his preventatives, crate trained, and working on house training(doing well). He is about 6-7 months old and about 35 lbs.

For more information, call 973-902-9275 or email lizwizanimalpalace@yahoo.com.
Shark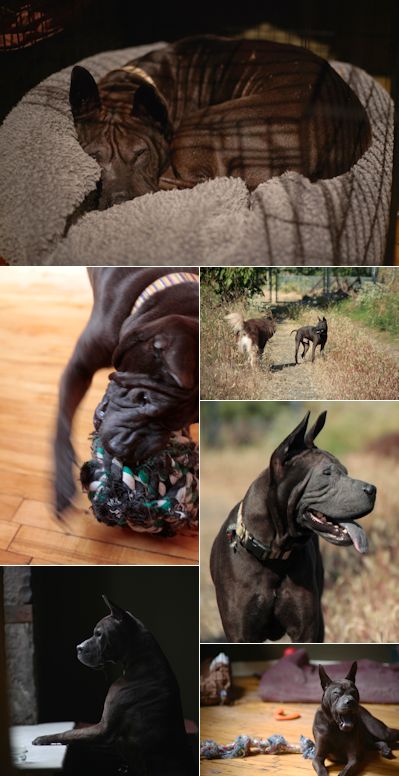 This is Shark, an affectionate prick-eared boy who is about 5 1/2 years old. He's very active, loves to play and run, and walks extremely well on leash. He has good recall response but does have a very strong prey drive.

He has not shown any aggression towards people or dogs, but he is very dominant. He needs an owner who will set boundaries and take charge. He learns very quickly.

He does suffer from Shar-Pei fever, but has not had any major flare ups in over six months. He also has some other typical Shar-Pei sensitive skin issues.

He would do best in a house where he won't be left alone for long periods of time.

Shark is looking for his "forever" home. Please email jaystew@gmail.com for more information.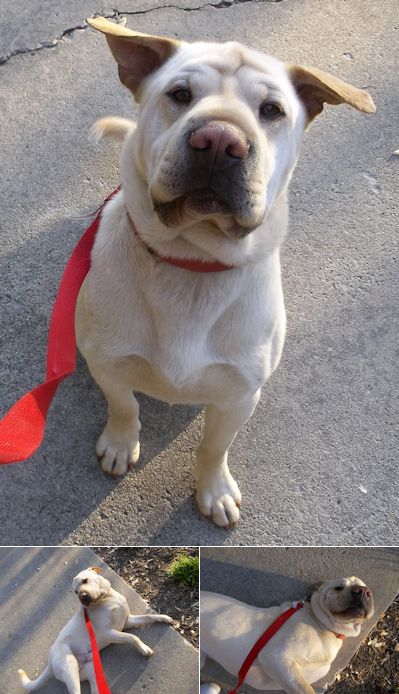 Judge is an adorable Shar-Pei/Lab mix born in September of 2010. He has a very sweet personality and temperament toward people and other dogs. He readily makes friends with dogs of all sizes and breeds. He is trustworthy around children. Cats are a different story...he is not good with cats. His current home has six cats, so they are looking for a new home for Judge.

Judge has been neutered and his shots are up to date.

Judge is located in Mount Airy, NC. Please email hawksnestschool@yahoo.com for more information.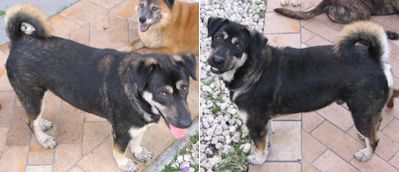 Ono is a very sweet five year old Shar-pei mix that was found with a severe case of mange. His rescuer didn't think he was going to live. In a matter of months, he had his hair back and became the happy dog he is.

He loves to walk on lead, almost trotting with joy as he does so. He has wonderful face markings - just look at those eye brows! He is a submissive male and will be the first to drop to the ground in a playful romp with other dogs. Ono is super gentle and affectionate. For example, he tolerates toddlers straightening out his curly Shar-pei tail without batting an eyelid! He's about 45 pounds, lean and has plenty of energy for walks, but is not a hyper dog.

He's neutered, house-trained, and perfect for any loving family.

If you are interested in adopting or need more information, please email apendas2@bellsouth.net or call 305-323-4419.
Perry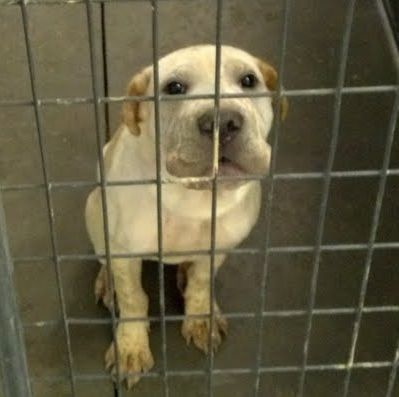 Perry is approximately six months old. He is tan with a merle pattern. He has passed his temperament evaluation and did great with dogs, immediately wanting to play and has no food issues.

Perry is located at the Kent County SPCA in Camden, DE. If you are interested in adopting Perry or need more information, please email s.knight@kcspca.org.
Nick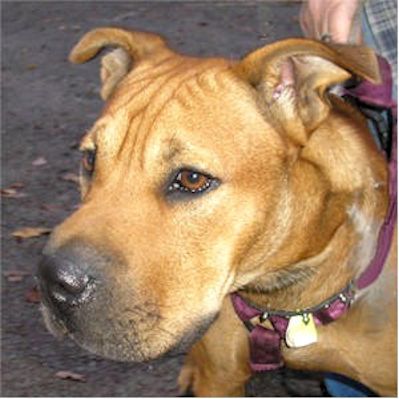 Nick is a very sweet Shar-Pei Mix. He is about 50 pounds and housetrained. He is a very good watch dog. He'll bark.but he doesn't bite. He enjoys walks and will walk a million times a day if you want to! He is neutered and up-to-date on all his shots and heartworm preventative.

Nick is located near Reston, VA. If you are interested in adopting Nick or need more information, please email karmela.barron@gmail.com.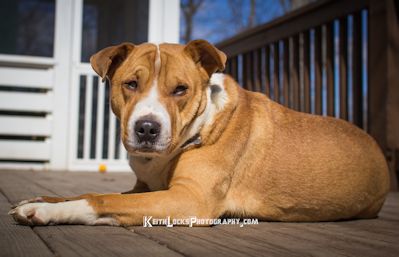 Mulligan is a sweetheart that certainly deserves a second chance at a good life. He was thrown over the fence of a local shelter in the middle of the night...tossed away without concern for his well being. The worst part of it all was that he was skin and bones...so weak he could barely stand. Medical care, high quality food and lots of TLC and he is a new boy! Mulligan loves everyone he meets and is super affectionate and loving. He will make a wonderful pet for some lucky family. He is around 2-3 years old and weighs about 50lbs.

Mulligan is one cool dude! He would probably do best in a situation where he could have all of the attention to himself, though he does fine around the other dogs in his program. He is a devoted dog who loves his people.

Update 9/6: Mulligan has some strong Shar Pei tendencies and bonds with his people. He is initially apprehensive with strangers, but once he warms up he is very dedicated and will be a wonderful companion. He is recommended for families with older children and could live with a calm dog, but is not really a doggy player.

Update 9/20: Mulligan loves the ladies - he seems to prefer women, and is also very sweet and dedicated!

Mulligan is receiving obedience training at a Virginia correctional center. To learn more about the Pen Pals program, please visit www.fetchacure.com. If you are interested in adopting, please visit www.fetchacure.com, click on the "Pen Pals" tab, fill out the application under "Adoption Process" (scroll down to bottom) and fax it to 804-525-2193, or email it to wendy@fetchacure.com.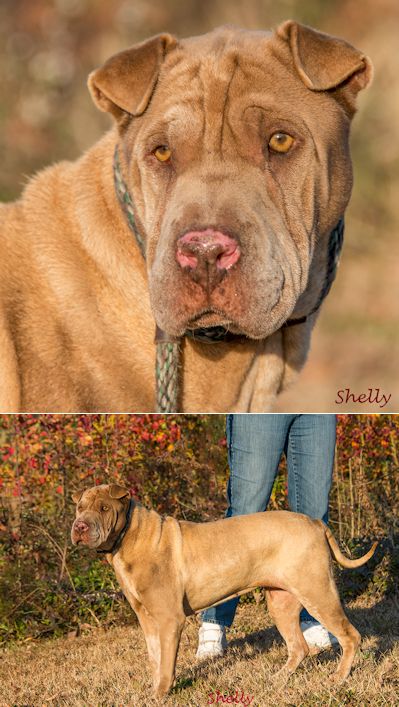 This beautiful female Shar-Pei is Shelly! She has a lovely personality to match her pretty face, and the volunteers at the Gloucester County Animal Control facility have all fallen in love with her. She is a seven year old owner surrender. It is very sad to see her suddenly finding herself in animal control.

She is good with other dogs, cats and children! Shelly is affectionate and great on the leash. She is already spayed and will be updated on her shots. She is heartworm positive, but the shelter will start her on preventative.

Shelly is such a sweet girl, just a very special lady.

Shelly is located in Gloucester, VA. If you are interested in adopting Shelly or need more information, please email peggyb72@gmail.com.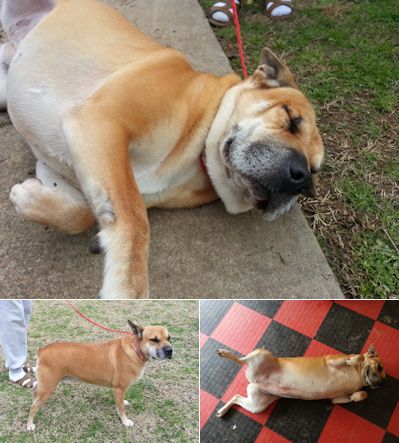 Dorothy is a Shar-Pei/English Bulldog. She is two years old and weighs about 40 pounds. She is very sweet and submissive with people and loves to sit on laps. She LOVES toys. She loves large male dogs and would like a home with a large male canine companion or would also like to be an only dog. She is not good with cats.

If you are interested in adopting Dorothy or need more information, please email lowdownhound@live.com.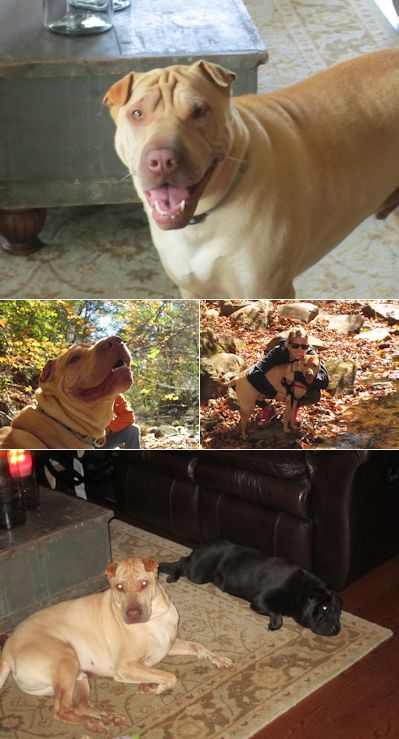 Meet Watson, a very loyal and smart four year old male Shar-Pei. Watson loves to play fetch and tug-of-war, loves to be given warm baths (hates cold ones), and loves to snuggle in bed with you. Once Watson is familiarized with other dogs, he is gentle and tolerant. He currently lives with a mini-Shar Pei (about 30 lbs) who he adores. He allows her to win tug-of-war games, allows her to give him baths every night, and eats/sleeps next to her every day. He also loves his little Westie friend.

However, he does show aggressive behavior towards strangers (human or foreign animals). A veterinary specialist has worked with Watson and diagnosed him with territorial aggression and said that it could easily be managed. She recommended keeping Watson leashed when around strangers/dogs for the first time.

Watson is neutered, had entropion surgery and is very healthy. He is current on vaccinations and flea/tick and heartworm preventative.

If you are interested in adopting Watson or need more information, please email taylorjc@mymail.vcu.edu.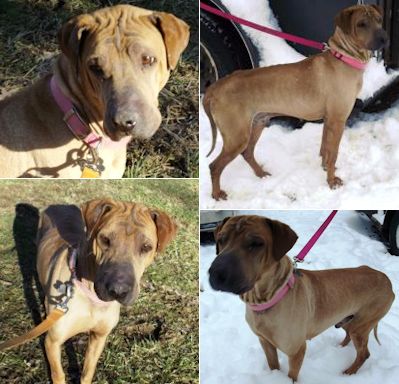 Poor Chance was close to death when rescued. He was severely emaciated and dehydrated, and his skin was red and swollen. His feet were swollen and he had pressure sores on his legs and butt from laying on the hard ground.

Despite his horrible past, Chance loves people, kids and gets along with other dogs.

For those who use Facebook, you can follow Chance's progress on Facebook.

If you are interested in adopting Chance, donating towards his care or need more information, please email info@wvpetinc.org.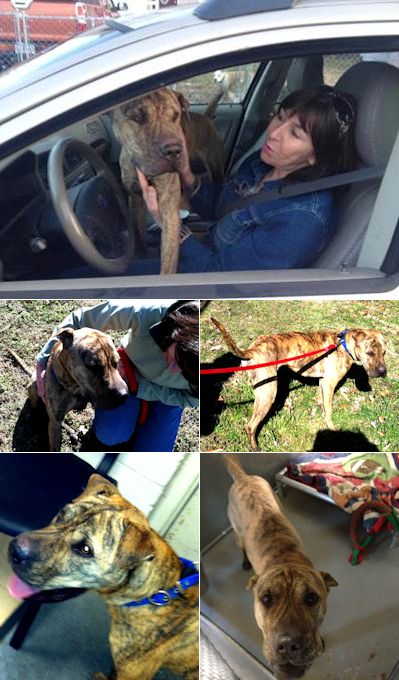 Max ended up in a shelter when his owner passed away. He was rescued and is currently at Forever Home Rehabilitation Center, but he doesn't need any rehabilitation. He's sweet, cute, super friendly and gets along well with other dogs. He is a young boy, about two years old, who is looking for a loving "furever" home.

Max is in Virginia Beach. If you are interested in adopting Max or need more information, please email jlauter1@cox.net.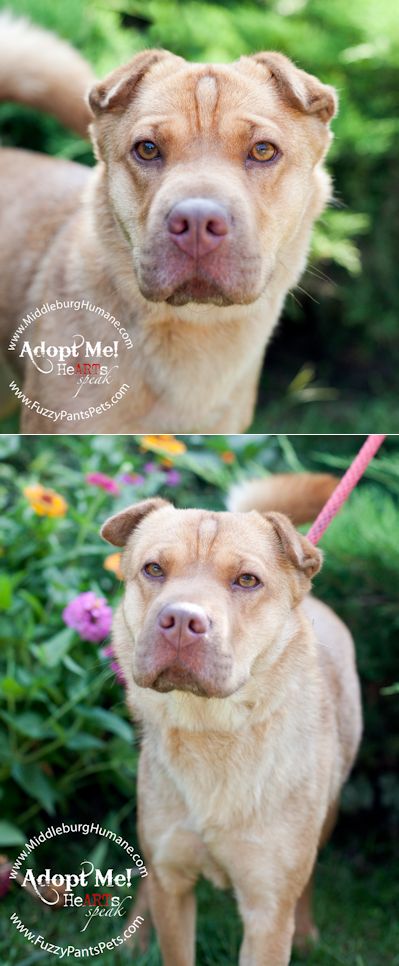 Sweet Lucy is about a year and a half old. She spent the first part of her life living on a chain and is now in a shelter. Her shelter friends have helped her to learn doggie manners, and she has progressed in leaps and bounds.

The shelter environment makes Lucy, like most Shar-Pei, very stressed, which causes her to lose weight. She is so hoping for a loving home where she will be stress and chain free.

Lucy is very sweet and deserves a chance at a new life. She is up-to-date on vaccinations and spayed and ready to go to a home.

Lucy is in Middleburg, VA. If you are interested in adopting Lucy or need more information, please email mhf14@verizon.net.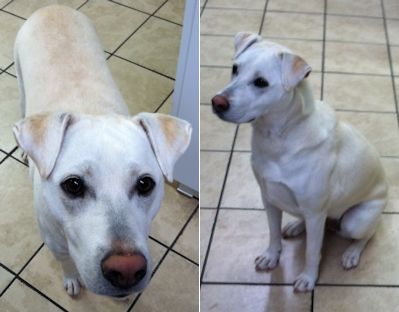 Angel is a sweet girl who was left at a vet clinic. She is a wonderful girl, and the vet clinic thankfully chose to help her. She is now staying with Dawgpatch Kennels in Dallas, NC, and they are looking for a loving furever home for Angel.

Angel is a 1 & 1/2 year old spayed female Shar-Pei / Lab mix. She is up-to-date on all vaccines and is heartworm negative. She is also house-trained. She gets along well with other pets, cats and dogs. Her weight is 55 lbs.

Angel is in Dallas, NC. If you are interested in adopting Angel or need more information, please email dawgtag@bellsouth.net.