Autumn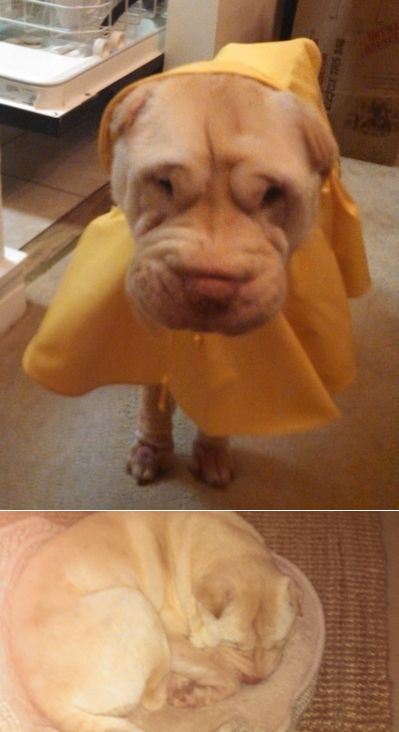 Autumn is doing wonderful and is a wonderful addition to her new family. She is all set for spring in her new rain coat! So adorable!

Rosie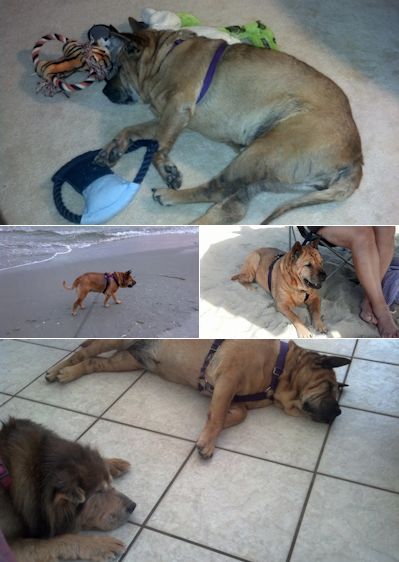 Rosie is very hap-pei in her new home where she has a Shar-Pei sister Cody Lynne who she enjoys playing and walking with. Rosie has SO MANY new toys and is having a great time taking them out of the basket and putting them all around her! She is also enjoying her hikes with her new Mom!

Louie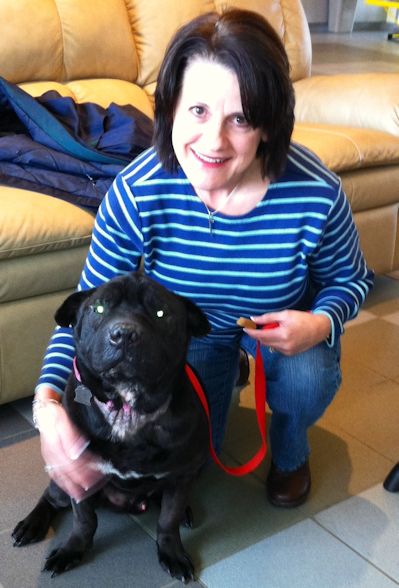 Louie, meeting his new Mom, after his Pilots N Paws flight to Virginia!

Simba (previously Luke)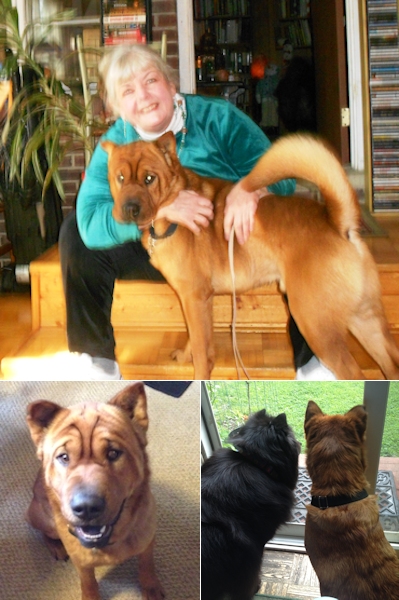 Simba, previously Luke, (adoption pending) is a very hap-pei boy. From terrified at the shelter to the smiley boy above! His new mom says: Simba is a great dog and I love him already! He is wonderful! He has been very good!

Lilly Rose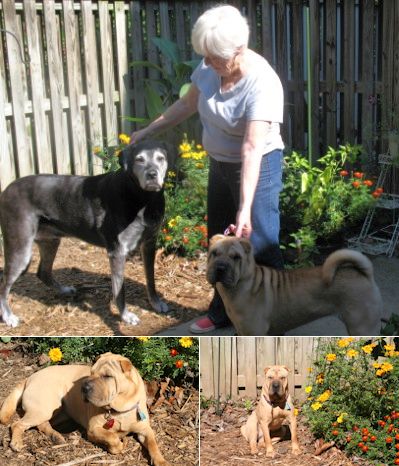 Lilly Rose enjoys hanging out in her garden with her family!

Jazzy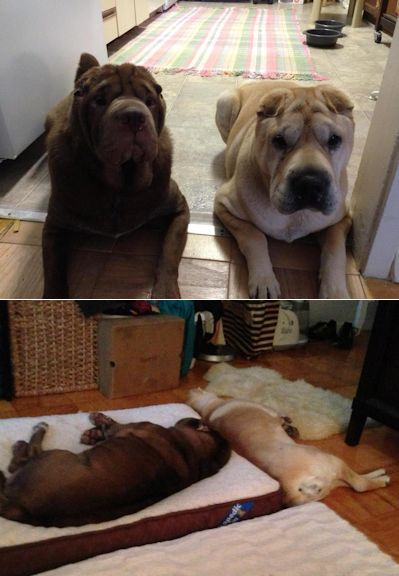 Jazzy was very happy to meet her new dad who came with cookies in his pocket, a car full of toys, nylabones and blankets, and a brand new collar with a nametag engraved "Jazzy"!

Kato (previously Washington)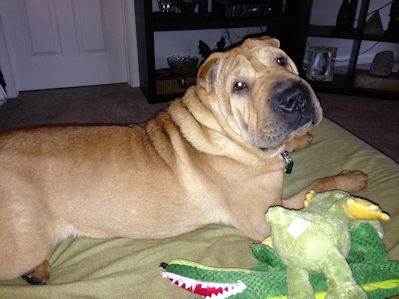 Kato, previously Washington, is loving his new home. He was so excited to have his very own stash of toys to play with!

Bindi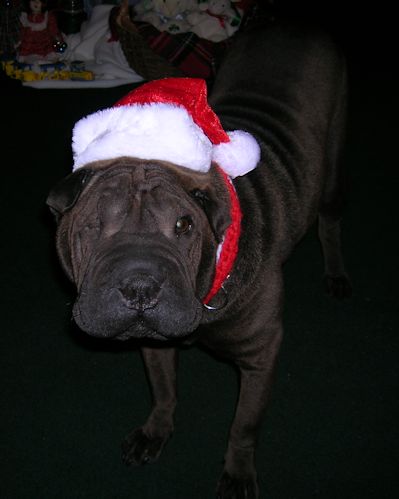 A very hap-pei Bindi celebrated the holidays in his "fur-ever" home!

Foxy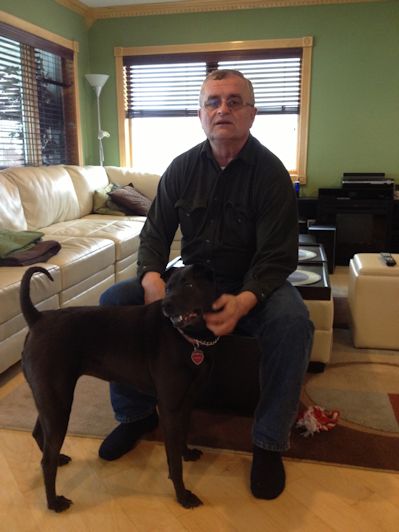 Foxy was so excited to meet her new dad and check out her new home on the bay! Lucky Foxy Lady!

Stuey (previously Steele)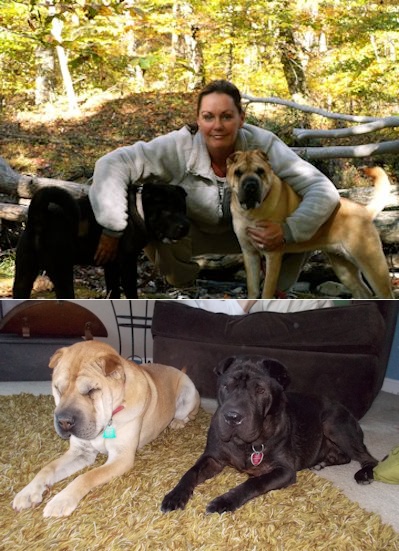 Stuey, previously Steele (adopted 2012) is doing great. He is a rambunctious little guy, loves wrestling and going nuts with Cookie, his Shar-Pei sister. He enjoys walking and hiking with his family.

Monroe (previously Larry/Lazarus)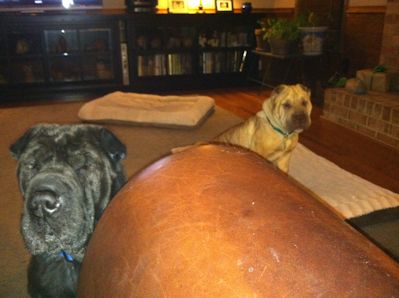 Monroe, previously Larry/Lazarus, is a wonderful big foster brother to foster brother Vincent.

Magnolia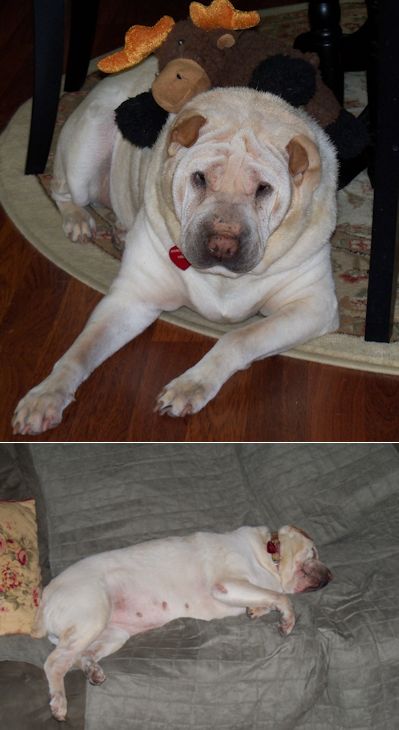 Maggy (Magnolia) is all settled in at her new home, and her family says she is just a doll!

Molly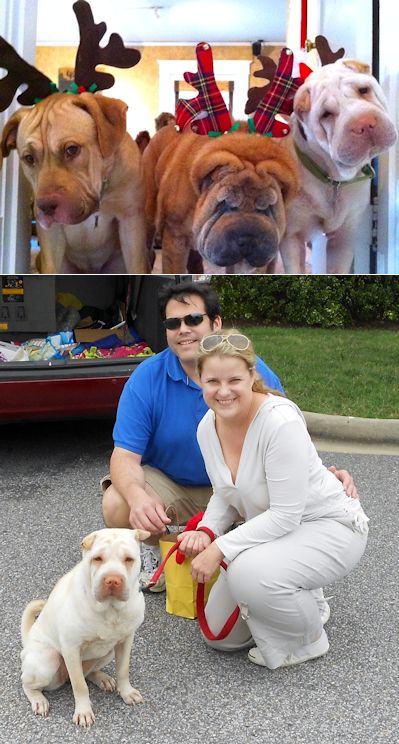 This is Molly, now Tucci, (adopted 2012) when she met her new family. She is all settled in and enjoys sleeping with her family. She has two canine siblings, Jaegar and Lullabelle.

London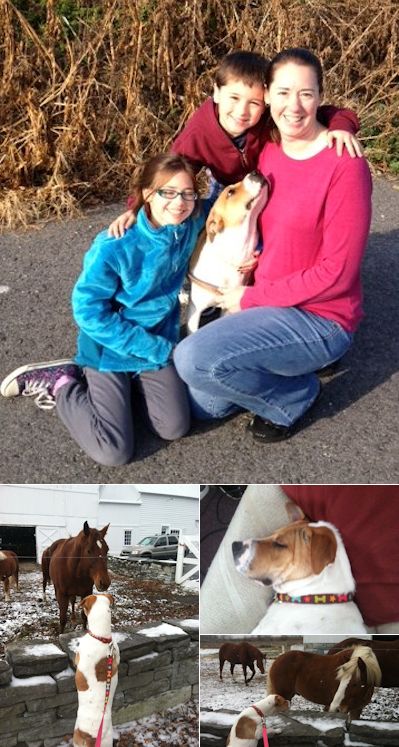 London (adopted 2012) meeting her new family! Looks like she knows she is home and will be very Hap-Pei! She had a great adventure over Thanksgiving and met some horses. She loved them!

Lt. Columbo (previously Duncan)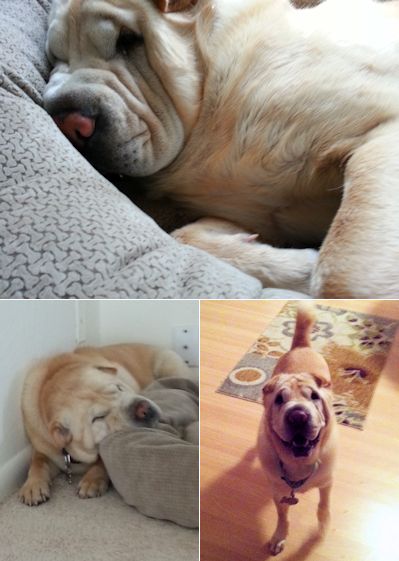 Lt. Columbo (adopted) 2012 giving a big smile for the camera :-) He can now be found snoozing at his new home in Florida!

Grayson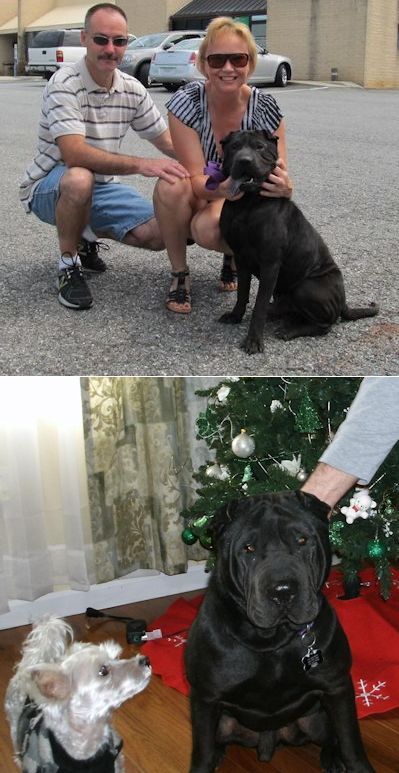 Grayson (adopted 2012) hamming it up for the camera while meeting his adopter for the first time (top) and with his new canine brother.

Daisy (previously Diva)

This is Daisy who was adopted from Shar-Pei Rescue of Virginia. When I first got her, she wouldn't let me touch her paws and was afraid of any material item-blanket, bandana-on her. She had been abused and neglected. With a lot of love and hugs, Daisy has made tremendous progress. She loves her belly rubs. And she is quite the fashionista! You've come along way Daisy!
~ Judy

Raisen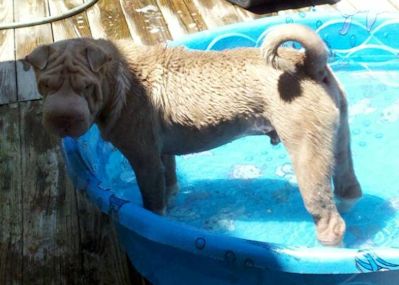 Raisen (adopted 2012) enjoying his first bath at his new home.

Curtis Loew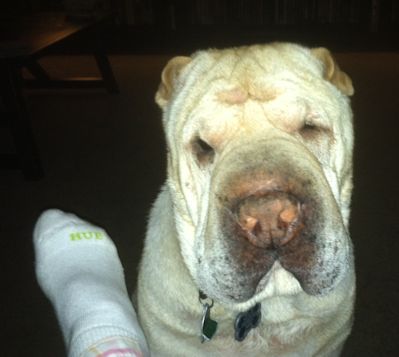 Curtis Loew (adopted 2010) knows when his Momma needs cheering up. His Momma was sick for a few months and he did not leave her side.

Brody (previously Monti)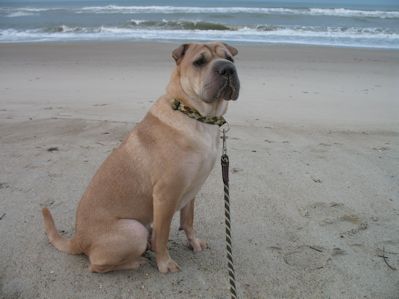 In October 2011, I picked up a 50 pound, fawn, male, bouncing Shar-Pei named Monti from my contact at Shar-Pei Rescue of Virginia in Williamsburg, Virginia. On the drive back to our home in Midlothian, Virginia, he was renamed Brody (for Chief Brody, slayer of Jaws) and we have lived happily together ever since! He loves to ride in the car, play ball and he is very sociable with people and other dogs. He goes to work with me almost every day and when he does stay at home, my co-workers are extremely disappointed! We went to Emerald Isle in North Carolina last month (photo above) and he loved it! Thank you Shar-Pei Rescue of Virginia for bringing Brody to my life - he is wonderful!!
~ Augusta

Sassy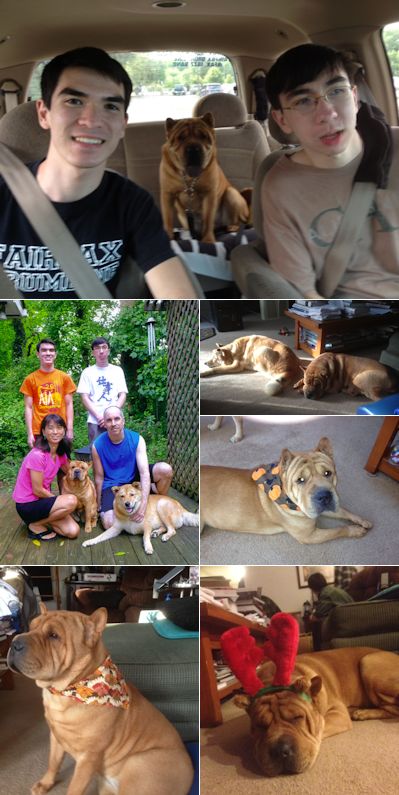 Sassy is hap-pei in her new home where she has two human brothers and a canine sibling, Kumo.

Minnie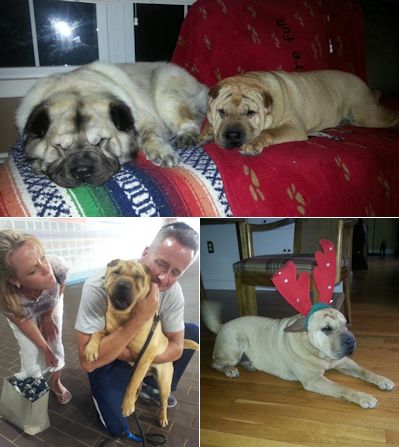 Minnie has a new canine brother, Bucare. She is all settled in and very happy!

Daphne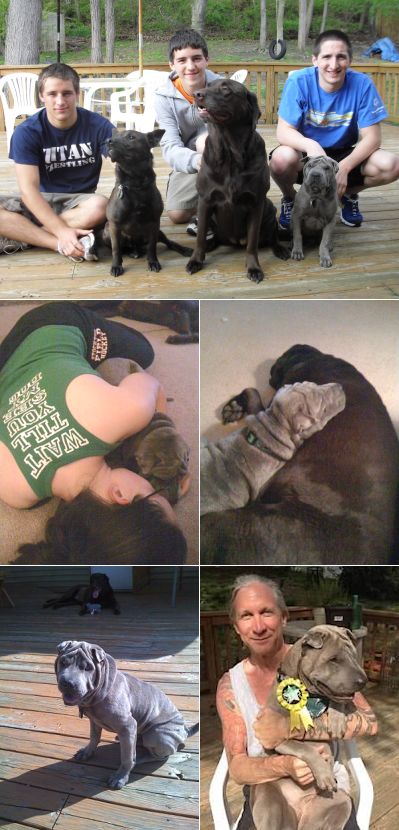 We welcomed Daphne into our South Jersey home on Monday, April 5. She is shown in the top picture with Lucy, our chocolate lab and our daughter's, puppy, Bishop (as well as members of her new people family too.) She is a lot of fun and we are happy to have her as part of our family.
~ Frank and Cris
Update 7/7/2012: Added Daphne and dad showing off the badge they won as the dog and owner that most look alike!

Cal Lee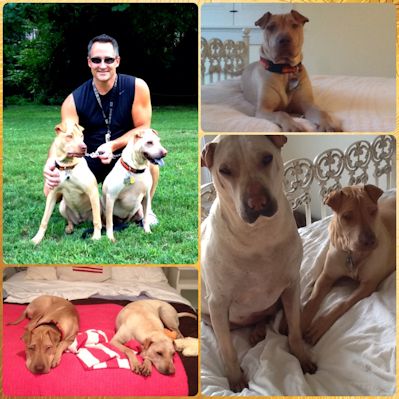 Cal Lee's new name is Sorella (sister in Italian). She's getting along great with Soleil, her big sister. She's a smart, well behaved dog and a lot of fun. Quite a snuggler and bone burglar. Thank you soooo much. She's been great for Soleil and us.
~ Tom

River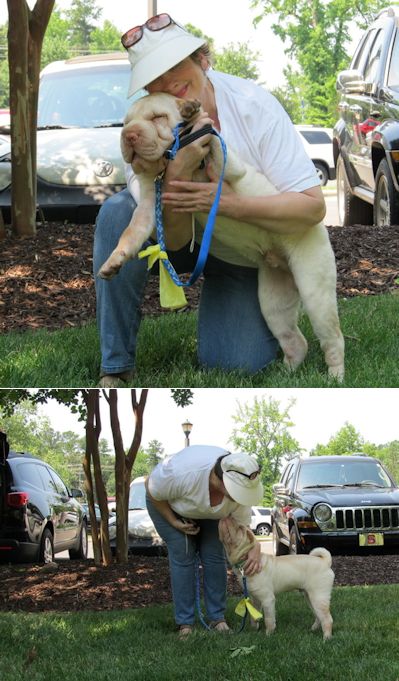 River...meeting his new Mommy! Love at first sight :-)

Lexie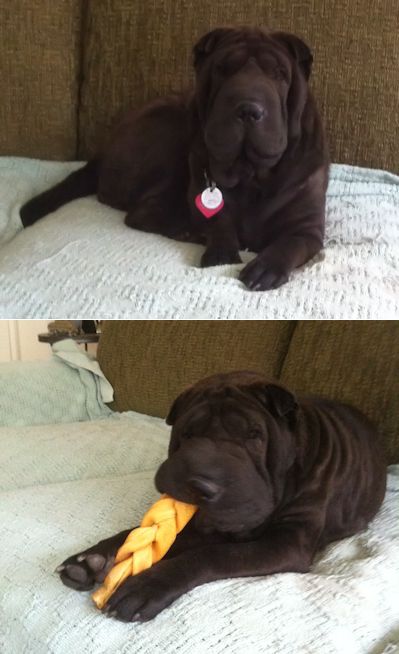 Lexie has adjusted really well to her new home, and her new mommy is loving every minute with her!

Mokie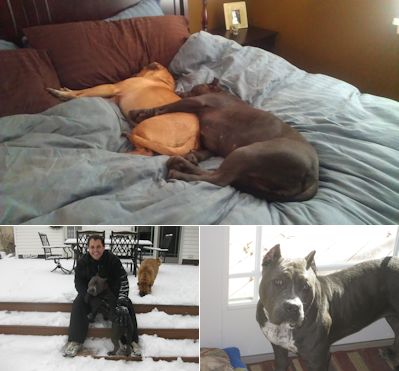 Mokie has settled in great with her former foster and now forever family! Despite her prior history of neglect, she has turned into an amazing dog, with a constant tail wag! She is a great buddy to Sammy (also from Shar-Pei Rescue), and loves going on walks, meeting new dogs and people as well as being a couch potato.
~ Chrissy

Misha

Misha is a happy girl in her new home in Connecticut where she is spoiled and loved by her new parents! She loved participating in a recent charity walk.

More Hap-Pei Endings:
Page 1 -
Page 2
-
Page 3
-
Page 4
-
Page 5
-
Page 6
-
Page 7
-
Page 8
-
Page 9