Fundraiser for Pearl's Bilateral Subluxating Patella Surgery (Updated 10/16/2016)
Video from before surgery on the first leg
For seven years, Pearl was subjected to careless neglect and cruelty. Never spayed, she was bred indiscriminately and confined to tight quarters that prevented her from normal movement. As a result, Pearl's rear legs were forced to be turned under her body frog-style. This poor girl had limited use of her back legs and had resorted to getting around by dragging her back end like a seal or by hopping on one of her back legs.
Since her rescue by the Shar-Pei Rescue of Virginia and her placement in a foster home with three other dogs, she has demonstrated enthusiasm for affection and exercise, scampering around the house and yard as best she can. It's clearly exhausting for Pearl to get around and the gleam in her eye reveals her desire to romp and play more than her physical limitations allow.
First, Pearl was spayed and had entropion surgery.
Pearl was then evaluated by orthopedic surgeon, Dr Dietrich Franczuski at VRC in Malvern, PA. He determined that Pearl has grade 4 bilateral subluxating patella. This is a condition in which her kneecaps are severely rotated outboard on each of her hind legs. He also determined that her quad muscles had atrophied due to the deformity.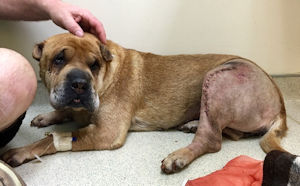 He wanted to do surgery on both legs at the same time and anticipated that he would have to shorten her femur bones to accommodate her shortened quad muscles in each leg and reconstruct her quadricep mechanisms. However, during her 7-hour surgery on June 21st, Dr F could only work on Pearl's left leg, as she required four very involved separate procedures to correct the problems on that limb.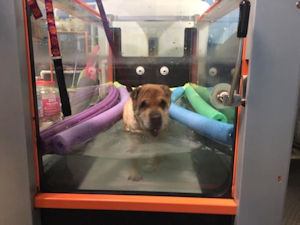 Following a recuperation period of three weeks and suture removal, Pearl began physical hydrotherapy with Dr Russell Howe Smith at PetPT in Cherry Hill, NJ. Pearl has made great progress with her therapy in combination with a muscle relaxer. She has gained 2 cm of muscle mass in each of her hind legs, has a greater range of motion and extension in both legs and has more of a normal gait (vs dragging / hopping on one leg).
Now it's time for surgery on her right leg, which will improve her gait and quality of life. The right leg is worse than the left was and may require a patella groove replacement, which is more extensive and will be more expensive. After this second surgery, she will have more physical hydrotherapy.
Despite the mistreatment she suffered in her first seven years, the resulting deformities and the surgeries and recoveries she's been through since her rescue, Pearl is a loving and happy dog. She's as playful and mischievous as her legs allow.
We can already see significant improvement in her comfort, posture and gait that surgery on her left leg has provided. We're confident that surgery on her right leg will get Pearl that much closer to normal mobility.
Both Dr F at VRC and Dr HS at PetPT have given the Rescue significant discounts on the services and surgeries Pearl has received. We had a successful fundraiser during which we received two grants and many donations. However, our regular avenues of funding have dwindled and we now need at least another $4,000 for the rest of Pearl's treatment. We are waiting for an estimate from VRC and will update the fundraising goal when we have that information.
The goal of the Rescue is to restore as much of Pearl's normal posture and mobility, allowing her to appeal to a wider selection of potential permanent adoptive families, providing both parties joy and companionship!
Please consider even a small contribution to help us get Pearl to the end of this long journey and up on all four of her feet. If you're unable to contribute, we would appreciate your sharing Pearl's story. Thank you!
| | |
| --- | --- |
| GOAL: | $7,500 |
| RAISED: | $5965 |
Fundraiser for Pearl's Surgery


To donate by Paypal, please use the Donate button to the left. You can optionally enter your name to be displayed with Pearl's list of Guardian Angels.

If you prefer to donate by check, please mail a check to Shar-Pei Rescue of VA, PO Box 968, Barnegat Light, NJ 08006.

All donations are tax deductible.


Thank you for your generous support!
Pearl's Guardian Angels
Thank You to our Grantors for their support!

Shar-Pei Rescue of Virginia is pleased to announce that we received an Emergency Medical Grant from the Ian Somerhalder Foundation to help with the rehabilitation of Pearl. We are very grateful for their support!



THANK YOU to the Onyx & Breezy Foundation for providing a grant towards Pearl's orthopedic surgery. We greatly appreciate their support!



Back to Home Page
Thanks to James "Jamie" Arthur Johnson for the Javascript fundraising thermometer from
http://educ.jmu.edu/~johns2ja/fundraisingthermometer.html