The goal of Shar-Pei Rescue of VA is to help rehabilitate and re-home shelter Shar-Pei, Shar-Pei in situations of cruelty and neglect, and Shar-Pei from families that can no longer care for them. We are an IRS 501©3 approved organization. Our group is comprised of volunteers that are dedicated to finding loving, forever homes for Shar-Pei in need.
What's New...
Hap-Pei News! Patrick has been adopted!
Foster Homes Needed! We need foster homes for a Shar-Pei mix boy coming in from NC, a female prick-eared girl coming in from NC, and Cooper. There is a high probability that the female will be heartworm positive, so we need a foster near our veterinarians in the Virginia Beach or New Jersey areas. If you have adopted or fostered before, please email info@sharpeirescueofva.org. If not, please fill out a foster application.
Freckles is a sweet little Shar-Pei who was adopted earlier this year. She is about 4-5 years old, and she lived most of those years tied to a tree having puppies. She is having trouble adjusting to living with other dogs, so we would like to find her a loving home where she can be the only dog and get all the attention that she never got. She is a very sweet dog otherwise. It breaks her adopters' hearts to let her go. She has had some incidents of Shar-Pei Fever in the past, so that is something her new family will need to become familiar with if not already experienced with Shar-Pei Fever. She is on meds for Shar-Pei Fever and has not fevered since June. Lab work was done in September, and all looked good. If you have adopted or fostered before, please email info@sharpeirescueofva.org. If not, please fill out an adoption application.
Pearl has completed her physical therapy on her left leg and has done very well. We are now preparing for the surgery on her right leg which will further improve her gait and quality of life. She will need additional physical therapy after the right left surgery. We are going to need to raise roughly $4,000 for her second surgery and physical therapy. This is going to be difficult since many of our supporters have already donated for Pearl, and we don't have additional grant opportunities for the second surgery. If you could please share this plea with others who may be willing to donate a small amount to help Pearl, it would be greatly appreciated. Almost 15,000 people viewed Pearl's hydrotherapy video... if only 5% of those people donated $5, we would have close to what we need for the next phase of her treatment! Every little bit helps. Please visit her fundraising page for additional information. We will be posting a new video soon.

In Memory of Tracey Lewis
(1969 - 2010)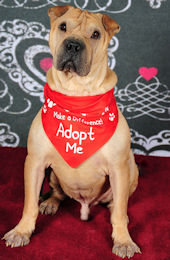 Rocky

Hi, I'm Rocky! I am a very sweet, social two year old boy. I was in bad shape and very underweight when I came from the shelter, so they thought I was older. I have been doing great in my foster home and am now up to 37.5 pounds! I like other dogs and cats. I have lived with kids and have done fine, but we think I would do best with older children. My coat is coming in nicely. I look great and am playing like the two year old youngster that I am!

Are you looking for a sweet, young boy to join your family? Well then look no further! Please fill out an application and ask for Rocky!

Please visit the adoption page to read more about me and see more pictures!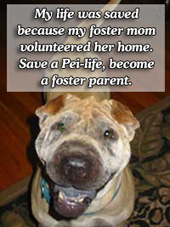 Foster homes are a vital part of what we do. The number of Shar-Pei we can help is determined by the foster homes available. For more information on fostering, please visit our Help a Pei page. If you are interested in fostering, please fill out an application.

None Currently Scheduled
Photos from past Shar-Pei Rescue events!